Welcome to Sugar Ski & Country Club!
Welcome to your North Carolina mountain top winter wonderland!
All of our condominiums are privately owned, so they are individual in taste and style.
With several options, from efficiencies to 2BR/2BA, every comfort consideration is sure to be met. Whenever you are ready, your own unforgettable times at Sugar Ski and Country Club can begin.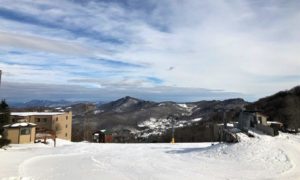 Fall is a great time to be in the High Country. You can still play golf, attend the Woolly Worm Festival, experience the changing of the leaves and cut your own Christmas tree to start your holiday season off in wonderful style! You haven't experienced Fall, until you've done so in the High Country.
And Winter, with its majestic, snow covered beauty, brings with it all of the fun of the area's ski resorts, holiday shopping, dining…and more!
Sugar Ski & Country Club is located on the Oma's Meadow slope of Sugar Mountain Resort, offering slope side lodging!
You've earned that long getaway or vacation! How about a place with all of the many comforts of home, where summers are warm, but never hot? Sugar Ski & Country Club is convenient to hundreds of wonderful recreational and cultural activities year-round!