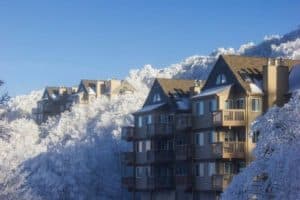 Sugar Ski & Country Club is a year-round condominium resort located at the top of Sugar Mountain. We are the area's only true ski-in/ski-out lodging center, which makes us one of the most popular choices for those seeking condos on Sugar Mountain NC. If you are planning your winter vacation in the High Country, you won't want to miss out on the deals that you can receive when booking with us. Call today for more information at 1-800-634-1320 or use our online contact form.
Choose from a cozy efficiency-style unit perfect for a couple or rent one of our 2BR/2BA that sleep six people comfortably. Those who enjoy cooking on vacation will enjoy the updated kitchen appliances that are featured in many of our rentals. Free Wi-Fi is guaranteed, meaning that you can enjoy entertainment on any of your devices. Many units feature a TV in the condo for you to relax in front of after a long day on the slopes. Make sure that your unit has the amenities you need by viewing our available units. Stay with Us Year-Round
Sugar Ski & Country Club is certainly popular during the winter months, but we also have a lot to offer during the warmer seasons. The High Country is a popular summer vacation destination for folks who live off the mountain since we have exceptionally cool and pleasant weather during the summer months. Escape the heat and come play outdoors around our condos on Sugar Mountain NC.
Whether you visit the High Country in the Spring, Summer, Fall, or Winter, contact us today for excellent deals on condos on Sugar Mountain NC.