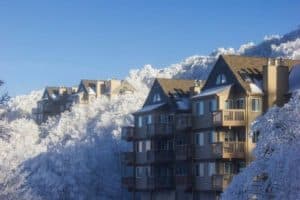 Sugar Mountain NC rentals slopeside are so rare, there is only one place that offers them – Sugar Ski & Country Club! We are proud to be the area's only true ski in ski out lodging location. If you are planning a winter vacation and appreciate these types of accommodations, go ahead give us a call to reserve your perfect condo! We are available at 1-800-634-1320 or use our online contact form.
We Offer Various Lodging Accommodations for Your Convenience
Nobody likes to feel cramped while on vacation – especially when you are dealing with bulky ski or snowboard equipment! Sugar Ski & Country Club features a variety of options when it comes to our Sugar Mountain NC rentals slopeside. We offer condominium options that range from efficiency-sized to 2BR/2BA. View our available rental options and choose the perfect condo for your needs.
Each of our condos are individually owned, meaning that they have their own look and sense of style. Most feature a wood-burning fireplace, which will warm you up after a day in the snow. We even sell firewood in our office, meaning you won't have to travel if you run out. Supplies do run out, so grab it while you can!
A Winter Value Package to Save You Money
Ski and snowboard vacations can be costly. Not only does a day at a resort cost money, but the accommodations surrounding your trip can add up too. Sugar Ski & Country Club offers a Winter Value Package to each and every guest, which can give you a guaranteed 30-40% in savings! You'll enjoy the discounts on lodging, lift/slope tickets, rental equipment, and lessons for the whole family.
Book your stay with Sugar Ski & Country Club – the only lodging facility in the village that features Sugar Mountain NC rentals slopeside.