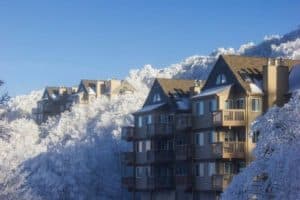 In the winter months, the High Country becomes a popular destination for skiers, snowboarders, and those who love playing in the snow. The Sugar Mountain features a popular ski resort, as well as opportunities for those of any age to enjoy the pristine beauty of the Blue Ridge Mountains blanketed with snow. If you are searching for the best vacation rentals Banner Elk NC has to offer, contact Sugar Ski & Country Club via our online form or call 1-800-634-1320.
We Feature a Variety of Options for Condo Rentals
Sugar Ski & Country Club features a variety of options for your condo rentals. Our efficiency-style condos are perfect for a couple, and our 2BR/2BA condos can sleep up to six. View our available rentals so that you can be sure to snag the properly sized condo rental for your vacation weekend. Our condos cannot be beaten if you are searching for vacation rentals Banner Elk NC.
Each of our condos are privately owned, meaning they feature their own unique style and taste. Television sets are provided for when you want to relax and unwind after a day on the slopes. You are sure to enjoy our wood-burning fireplaces that are available in most rooms.
Sugar Ski & Country Club Can Save You 30-40%!
How? At Sugar Ski & Country Club, we take saving money seriously. We have devised a way to save you 30-40% on your winter vacation on Sugar Mountain. With our Winter Value Package, you will receive a splendor of savings on lodging, lift/slope tickets, rental equipment, and lessons for the whole family.
If you wish to book a Winter Value Package, please give us a call at 1-800-634-1320 or contact us online. If you submit an online reservation, please type "ski package" in the comment section so that we can contact you and let you know your accurate price.
Contact Us Today for the Best Vacation Rentals Banner Elk NC Has to Offer
Whether you are visiting the Banner Elk NC area in the winter, or are seeking a cool summer getaway, Sugar Ski & Country Club will have the perfect condos available for you to rent. Book your stay with us today and call 1-800-634-1320.