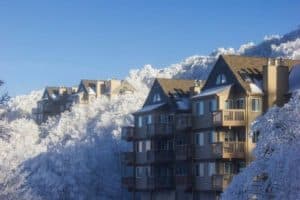 The High Country is a glorious corner of the country that is known for its pristine natural beauty. People travel from around the world to visit the Blue Ridge Mountains, and those in the Southeast are lucky enough to make it a weekend trip. Soon visitors will delight in the first North Carolina mountain roller coaster. If you are considering booking a weekend getaway in the High Country, stay at Sugar Ski & Country Club on Sugar Mountain. Call us today at 1-800-634-1320 or use our online contact form to book your stay.
New Spring & Summer Activities in the High Country
If you book a stay with Sugar Ski & Country Club, you will have access to numerous amenities to enjoy during your stay. Without leaving our property, you can visit our tennis and basketball courts for a friendly game. Our indoor pool, hot tub, and sauna will wash you into a deep state of relaxation.
Hiking trails and biking trails are also very popular for our Spring and Summertime guests to visit. Enjoy a stroll through the fresh mountain air in temperatures that are delightfully cool. If you are coming up from foothills, you will love that our humidity level is not as high as where you are visiting from.
A new attraction that we at Sugar Ski & Country Club are very excited about is the new alpine mountain roller coaster – right near Sugar Mountain! The new alpine mountain roller coaster will be less than a ten-minute drive from our condominiums.
Stay in Our Personalized Condos
Each of the condos at Sugar Ski & Country Club are privately owned, meaning they feature their own sense of style and personalized touch. View our available rooms and book your stay today. Whether you're in town for the new mountain roller coaster or just need a mountain getaway, Sugar Ski & Country Club is the best way to go!