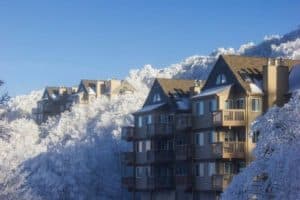 The only mountain roller coaster Banner Elk – and the state of North Carolina – features will be ready to visit soon, and we cannot wait! Sugar Ski & Country Club is thrilled to be so close to the area's newest attraction. When you stay in one of our cozy condominiums, you will be less than a ten-minute drive from the mountain roller coaster. Book your stay with us today by calling 1-800-634-1320 or use our online contact form.
Enjoy a Glorious Summer Mountain Vacation
The High Country is the ideal place to visit if you are seeking escape from the humid and swelteringly hot summer temperatures. Our elevation makes our summer temperatures delightfully cool, and without the choking humidity of off-the-mountain locations.
Sugar Ski & Country Club is located near many attractions in the Banner Elk area. A stay with us will allow you to easily access the Sugar Mountain hiking and biking trails that many enjoy in the summer. Our property also includes a basketball and tennis court for friendly matches during the day. You will also be a short drive away from Grandfather Mountain, which features beautiful nature reserves, wildlife sanctuaries, and the famous Mile High Swinging Bridge.
We are very excited to make use of the new and only mountain roller coaster Banner Elk area features. This two-person ride will allow you to glide through the beautiful Blue Ridge Mountains at a fun but not fast pace.
Our Condos Will Make You Feel at Home
The condos at Sugar Ski & Country Club are each privately owned, meaning they feature their own sense of style and personalized touch. You can view our available rooms online and make sure you choose the perfect condo to suit your needs. Whether you're in town to visit the only mountain roller coaster Banner Elk has to offer or simply wish to escape the heat, book your stay with Sugar Ski & Country Club.